Cities Changing Diabetes works in partnerships to fight the rise of diabetes in urban areas
Cities Changing Diabetes is a global program sponsored by Novo Nordisk in partnership with University College London and Steno Diabetes Center, in which nine cities around the world are learning how to improve diabetes prevention, detection and care in their communities. Urban areas have unique features and challenges, and this program aims to map the problem, share solutions and drive action to fight the diabetes challenge.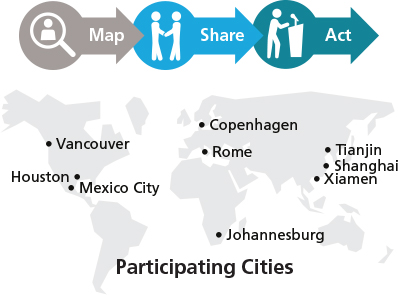 Houston was selected due to its challenging future with diabetes
The Cities Changing Diabetes program invested more than a year researching the diabetes epidemic in Houston. A community-wide assessment identified the populations most at risk for developing the disease and developed profiles of those most
at risk.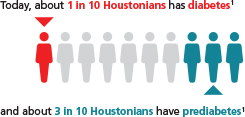 By establishing profiles of Houstonians, the Cities Changing Diabetes program is able to think in new ways about people at risk for diabetes and prediabetes.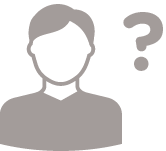 Isolated Skeptics
Disconnected from community, lack trust in health care system
Financially-pressured caregivers
Caregiver responsibilities, long commutes
Concerned Seniors
Low health literacy, dealing with change and transition in neighborhood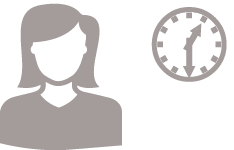 Time-pressured Young Adults
Facing time pressure, peer influence on appearance and health decisions
Cities Changing Diabetes - Houston works in partnerships. Local organizations lead the efforts; approaches that make sense for each urban area are generated and implemented.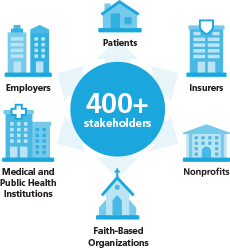 Core Team Members
American Diabetes Association
Asian American Health Coalition of the Greater Houston Area
City of Houston HR Department
Clinton Health Matters Initiative
The Fountain of Praise
Gateway to Care
Harris County Medical Society
Harris County Public Health
Hispanic Health Coalition
Houston Business Coalition on Health
Houston Health Department
Institute for Spirituality and Health at the Texas Medical Center
Peer Support Initiative
Connects employer, provider and community partners to create peer support networks for people with diabetes
Houston Diabetes Resource Center
A one-stop-shop website that connects patients, providers and employers with educational resources, programs in the community and navigation services
Faith and Diabetes Initiative
Helps houses of faith develop diabetes prevention and awareness efforts for their congregations
Employer National Diabetes Prevention Program
An effort to improve the availability of the National Diabetes Prevention Program among community providers and engage employers in adopting the program
Sources:
1. Institute for Alternative Futures. Diabetes 2030 forecasts, 2015: Houston metropolitan area diabetes data & forecasts. http://www.altfutures.org/pubs/diabetes2030/HOUSTONDataSheet.pdf. Accessed July 10, 2017.