By Nicole Cremente
Published September 03, 2020
 
Nicole is a senior at The Catholic University of America and was a social media intern for Novo Nordisk over summer 2020.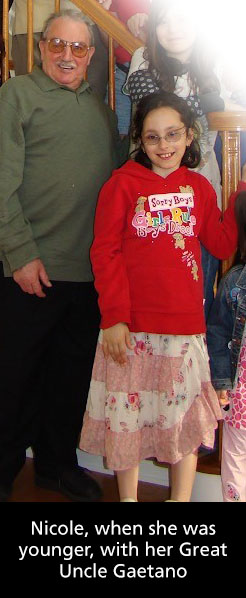 We've all felt loss during the pandemic. Scaled down graduations, postponed weddings, cancelled vacations, restrictions on who to see and where to go, or for far too many like me, the loss of a loved one.
Back in March my Great Uncle Gaetano, whom I was very close with, passed away. He didn't have COVID-19, but because of restrictions due to the virus he passed away at the hospital alone - which upset him and the rest of my family deeply.
Sadness stayed with me and amplified my own feelings of isolation as a college student unexpectedly back home, no longer surrounded by the buzz of campus life. I wanted – needed – to do something.
An opportunity appeared in a school email calling for volunteers for Big & Mini, an organization bringing "Minis", young people like me, together with "Bigs", people from an older generation, through video chatting to connect and gain different perspectives on life.
I quickly signed up to be a Mini and was paired with my Big, Connie. After a few "getting to know you" calls, we bridged the distance (I'm in New Jersey, Connie is in Texas), and our age (21 and 81), to become real friends.
Connie tells me I remind her of her granddaughter; she certainly reminds me of my Great Uncle Gaetano. Like him, she lights up a room and she has so much to share. She tells me what her children and grandchildren are up to and I talk about what's going on in my life. It's been easy to feel down these days, but talking to Connie always lifts me up.
And there have been some surprises along the way: I learned we both cheer for the Houston Rockets (my mom is originally from Houston), and that we both love music. Every Saturday at 1 p.m. Connie smiles and dances along as I play my ukulele for her. But the biggest surprise of all was that Connie and I were invited to appear this summer on The Today Show for a story on Big & Mini! 
I joined Big & Mini thinking it would be just another service opportunity and that I would eventually move on. Instead, I gained a new friend that I intend to keep talking to and hopefully one day meet in person – once it's safe to do so.  
We use Facebook as our commenting platform. By entering your comment above you acknowledge that the information you post will not only be subject to Novo Nordisk community guidelines but will be posted on Facebook in accordance with their Terms of Service and Data Policy and subject to their Community Standards.