On the Sunday before every Memorial Day, 33 men and women gather to run the greatest spectacle in racing – the Indianapolis 500-mile race. For the past eight years, I've been fortunate to be in that group of 33.
There is no greater moment in sports than driver introductions at the Indianapolis 500. Your name is announced, you get goosebumps and think of those who have come before you and allowed you to stand on their shoulders to reach this moment.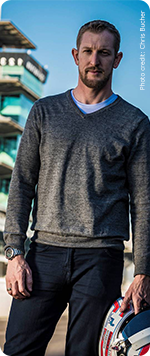 You try not to get too emotional, especially given the grueling task ahead, but you allow yourself to have that moment before the focus of the day settles in. This year, on May 27, we will gather again to contest the 102nd running of the famed race.
My journey to get to this race began simply enough. My family has a deep and rich history in, and love of, motorsports. I raced go-karts at age nine, tested in an open-wheel car to celebrate my 16th birthday, and when my friends went off to college, I deferred entry to Stanford and began my lifelong quest to win the Indianapolis 500. It is in my blood and in my dreams.
I hit a bump in the road in 2007, when I was diagnosed with type 1 diabetes but thankfully it wasn't a complete roadblock.
With a team of experts helping me on and off the track and a family supporting me unconditionally, I restarted my journey. Only this time it was about more than my ambition. It was bigger than me. This time, and every time I have gotten in the car since, the diabetes community rides with me.  I think about the people I crossed paths with at the track who continue to inspire me – people like Zach.
I met Zach a few years ago.  He was a middle-school student who had been recently diagnosed with type 1. After one tough race, I climbed out of the car and Zach was waiting for me. It was not my best performance and I was worried about what I would say to him.. How was I going to force a smile and not disappoint? But he walked right up to me and said, "Tough luck, Charlie. How is your blood sugar?" Zach made me realize   that it doesn't matter if I finished first or last, it just mattered that I was there, racing with type 1, pursuing my dreams despite diabetes.
Driving 500 miles at more than 230 miles per hour is hard work.  . But it's what we train for, what we do, and what we love. I know how incredibly fortunate I am to be able to do this for a living.
To the diabetes community, please know I am honored and inspired to have you along for the ride. You motivate me to be better and stronger, and you encourage me to make a difference in the lives of others. We will win this one day and we'll do it together.
We use Facebook as our commenting platform. By entering your comment above you acknowledge that the information you post will not only be subject to Novo Nordisk community guidelines but will be posted on Facebook in accordance with their Terms of Service and Data Policy and subject to their Community Standards.